Home Base at Dol
We have two small houses in Dol, a village some 2Km from the coast line, near Starigrad and Jelsa. We can accommodate climbers for a reasonable price all through the year. This is also the place where we hold our climbing camps and schools. Dol is a quiet, authentic Mediterranean village with no more than 200-300 hundred people living in it. It is 3Km from Starigrad.
It has a small tavern with cheap local gourmet food and a small store for you to stock up. Besides that, it is a place of heavenly peace and rest. Near the sea but with no crowds, noise or artificial entertainment. Everything here is as it is supposed to be on the Adriatic.
Larger house (4+1)
The house has two floors, with 2 bedrooms at the top floor and a kitchen/studio and a bathroom on the ground floor. One bedroom has a double bed and the other has two beds. In the studio below there is an expandable comfortable sofa for the plus 1. The house is originally from the 1800s, has been renovated and has everything you may need for your vacation. The walls are almost 1 meter thick, which keeps the temperature stable in the summer and winter. Interior decoration is vintage, rustic and fitting for a two century old house. It has been in our family since it was built.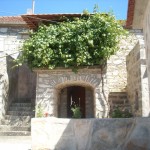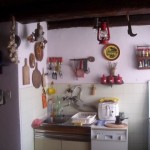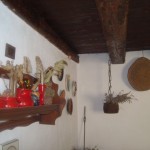 Smaller house (2+1)
This house has a double bed in a romantic attic gallery space and an expandable sofa in the studio below. It has been completely redecorated recently, with a new kitchen and a new bathroom. The view from the house is stunning, and the quiets nights in a small village are something to dream about. The house is originally from the 1800s and much of its original state has been kept until today.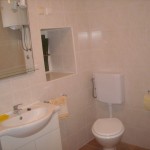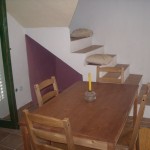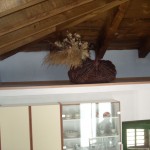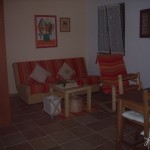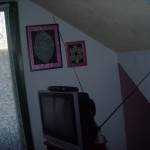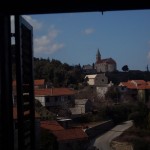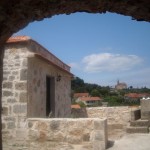 Common areas
Both houses are completely separated from the other houses in the village and your peace is guaranteed. They share some common locations for your free usage: a spacious stone-built shed where you can store climbing equipment, small boats, bicycles, etc; a big fireplace with an external dining table; a large and beautiful front court with an authentic well (yes, you can use it for drinking water also). Eating by the fireplace or just chilling on the old stone paved floors by night and looking at the stars is a must.