Milna (Pandolovica) crag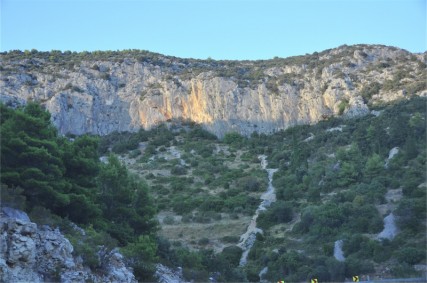 Pandolovica is a recently developed crag which is overlooking the road above the small cove Milna. The crag has enormous potential for future bolting in all styles (vertical, overhanging, roofs) and can be climbed all through the year.
Basic info
Parking – No, but can park around the road
Approach – Walking 15min
Season – All through the year, hotter in the summer
Climbing – Moderate grade routes
Equipment – Sport climbing equipment, up to 70m rope, up to 15 quickdraws.
Route list – Click here
Getting there
If you are driving from the town of Hvar, you will see the direction sign to the crag on your left just before the village Milna. Follow the sign and after a warm up access lasting 15 minutes, you are ready to climb and enjoy a view of the Adriatic sea. If you are driving from Jelsa/Starigrad and other places on the north side of the island, take the road towards Hvar, go through the tunnel and after you reach Milna, you will see a sign directing you towards the crag. See our interactive map for details.
Characteristics
As in all cases on Hvar, you may be passing over private property to reach the crag, so be respective to the owners and leave everything as you found it. During the summer, it tends to be too warm in the peak season, but climbable in the morning and in the afternoon. In other seasons, it is a perfect spot to enjoy the effect of sunny Hvar on your mood.