Sv. Nedjelja (Church and Cave)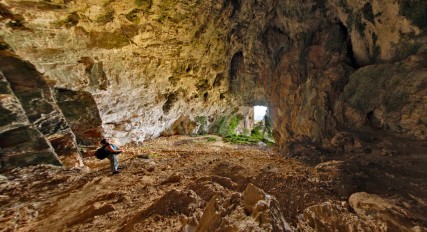 Above the Sv. Nedjelja village is a well hidden cave, which has been inhabited for more than a thousand years, used as shelter by the island inhabitants and as a sanctuary of many beliefs.
This climbing area is very much off the beaten track and is frequented by snakes more than climbers. Go there either if you a) want to free one of the super hard routes or b) want to enjoy really technical slabs.
Basic info
Parking – In the village
Approach – Walking 30-45min
Season – Spring, Autumn, Winter. Summer is way too hot.
Climbing – Moderate and hard. Not too many routes, but the hardest island routes are here
Equipment – Sport climbing equipment, up to 70m rope, up to 15 quickdraws.
Route list – Click here
Getting there
You get there by taking a hike from Sv. Nedjelja towards the cave via a well marked route. The hike will take you about 30-45 minutes and try to avoid doing it when the sun is too strong, but once you are up there there is enough shadow to cool you down. The scenery from up there is stunning as is the view that reaches to Italy on clear days. To reach the village Sv. Nedjelja, check out our directions at the other Sv. Nedjelja article. Check out our interactive map for further details.
To reach the larger sector, there is now a better approach. Take the car to St. Nicola's hilltop, ask around with the locals how to get there from your base (there are different dirt roads). Once you get there, hike for 10 minutes until the church Gospa od zdravja. The cliff is 50m to the west under the church, approach is from the west side on not so steep terrain.
Characteristics
Climbing in the cave is obviously on the hard side. There are several routes that are already graded and some projects. Climbing outside the cave on the wall is on the medium towards harder grades, but very specific slab climbing. There is a limited number of routes on the location, somewhere around 8 all together, but it may be worth while your journey at least for the view from up there.
The church is on state property and the cave is private property so please respect the owners and the sanctity of the place, so future climbers can visit and climb this gorgeous location
Take 360 a panoramic view of the cave sector
Take a 360 panoramic view of the church sector