Straćine crag
Click here for pictures of Straćine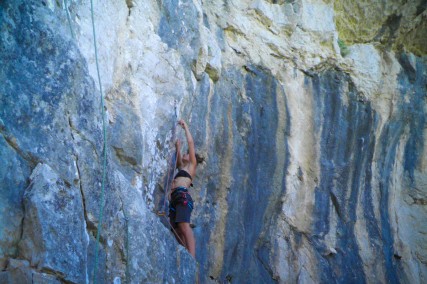 Straćine is a crag near Starigrad and Selca, recently developed into a climbing area.
Bolting
Please do not place bolts without consulting with us using the contact info here. We are trying to make sure that the equipment used is adequate for marine environments and that the crags are being developed in accordance with the local standards.
Basic info
Parking – Enough for 4 cars, usually available
Approach – Walking 10-15min
Season – Summer, Spring, Autumn and Winter. It is facing North.
Climbing – Easy and moderate
Equipment – Sport climbing equipment, up to 70m rope, up to 15 quickdraws.
Route list – Click here
Getting there
This crag is located near the village Selca. You will reach the village by driving from Starigrad town towards Hvar and taking a left turn before you reach Starigrad ferry port. Check out the interactive map.
Approach
Just as you pass Selca, you will see some parking spots on the left side of the road. Park there and go up to the crag by a narrow unmarked route through the bushes.
Characteristics
It is currently equipped with around 20 sport routes and has good potential for more bolting. It is north faced so the best season for climbing would be spring and summer, but due to the mild climate on the island, climbing is possible all through the year.