Pokrivenik crag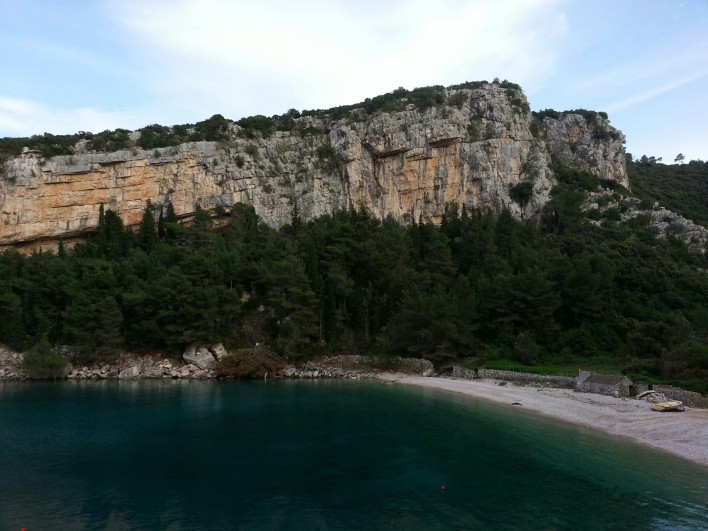 Finally Pokrivenik came to life as a new hotspot in development on the island. We just scratched the surface with the first 25 routes, the potential is for at least a 100.
Please be careful – the routes are new and are still not clean enough. Helmet is obligatory for both the climber and the belayer. Loose rock WILL fall off. It needs mileage.
Bolting
Please do not place bolts without consulting with us using the contact info here. We are trying to make sure that the equipment used is adequate for marine environments and that the crags are being developed in accordance with the local standards.
Basic info
Parking – Not available, but parking around the road is possible
Approach – Most sectors 5-10 minutes from the road
Season – Summer, Spring, Autumn and Winter. Shade available in the summer on one of the faces
Climbing – Easy, moderate, hard
Equipment – Sport climbing equipment, up to 70m rope, up to 15 quickdraws.
Route list – Click here
Getting there
The climbing area is situated in a little cove called Pokrivenik (3km from another crag in Vela Stiniva), with 5 houses, a camp and a nice beach. If you are coming from the direction of Starigrad/Hvar/Jelsa and other places on the west side of the island, just take the main road to Sućuraj. After about 15km from Jelsa, you will reach a hill-side village Zastražišće. In the village itself, turn left at the sign for "Pokrivenik".
If you are coming from Sućuraj or other places on the east side, or you are taking an express 30min ferry from Drvenik (near Makarska, on the mainland), just carry on towards Jelsa for 30km. Do not take the first turn to Pokrivenik, you will take the exit when you reach the 2nd (!!) exit to Pokrivenik. Follow the road and after about 1,5Km take a sharp turn to the right and follow this new road to the sea.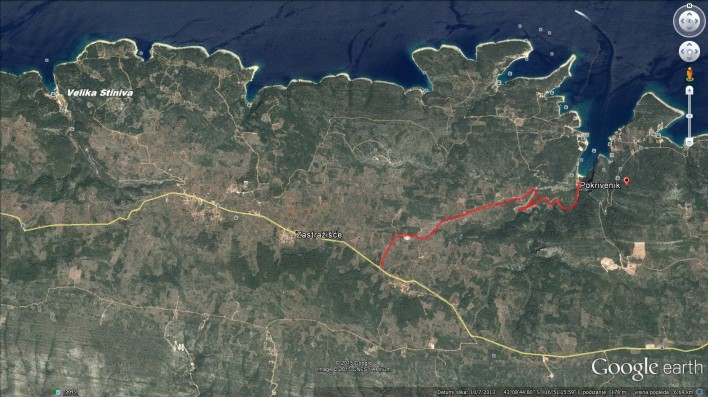 Approach
Each sector is 5-10 minutes from the end of the road. Please mind that you are passing over private land and be polite to the locals and owners. Take a look at the picture for the approach routes.
Characteristics
It is currently equipped with around 25 sport routes and has good potential for more bolting. It is new and still a bit wild, loose rock is still falling and you need to know what you are doing when climbing here.