We've spent 3 days working in Milna cleaning and bolting 3 new routes in sector B. All lines are beautiful and well cleaned, ready to be climbed. Our guidebook is updated with the new situation in the sector so check-check-check it out.
New routes are now the leftmost routes in sector B, so the sector now starts with:
1. Gamba! Gamba! – around 7b (25m)
2. Midnight Lightning – around 7a/+ (32m)
3. Franka – around 6b – (32m)
Here is a guide of the new routes. Please note that the existing routes are not in this picture, just the new ones from last winter and this winter.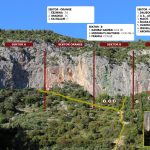 In the meantime, some FAs of the existing routes have been snatched. Gorazd Hren (Slovenia climbing team coach) sent Škura bura and proposed a 7c, as well as Mačić for which he proposes 7b+. Juraj Govorčin did the FA of Dalibor Gelo and gives it a solid 7c ("the hardest route in the sector"). He also repeated Škura bura and agrees with 7c, although he thinks it is easier than Dalibor Gelo. Aromaterapija has been repeated a few times and the grade stays at around 7a+ or a bit more (repeats by Domagoj Tončić, Marko Perković and FA Juraj Govorčin). Aromaterapija is the beauty queen of the sector so far, but new routes are contending now, so tell us what you think.
Development in Milna will continue and if you want to donate bolts or helping hands, let us know via e-mail.
Enjoy the routes and stay safe.